Palletizing at MercyCorps on March 18th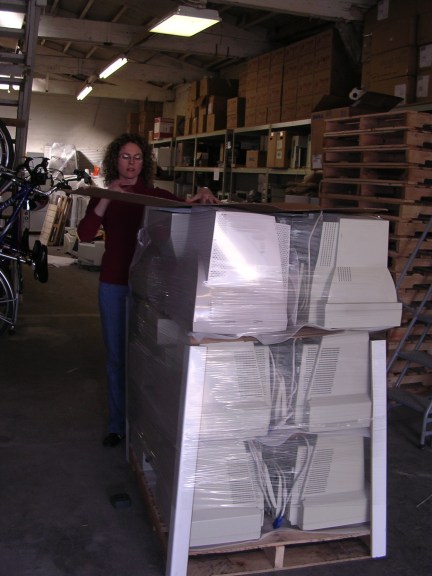 Bree adding cardboard and no-slip foam for another layer of monitors.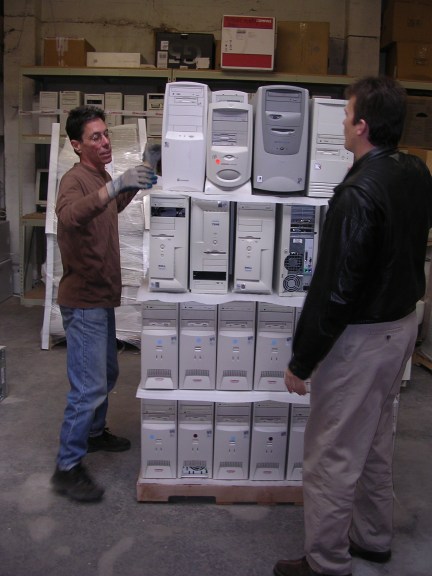 Matthew stacking CPUS with no-slip foam in between each layer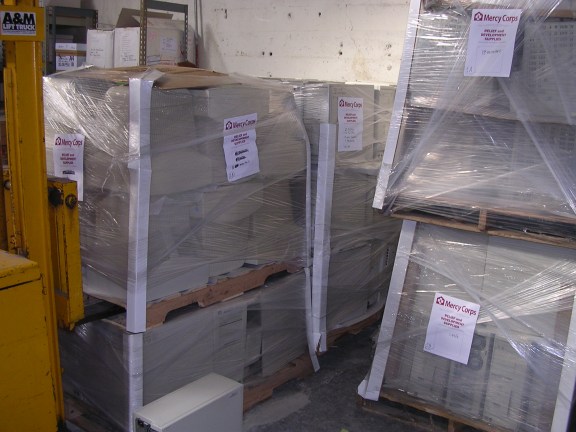 Pallets of monitors, ready to go. Note cardboard corners and wrap around base of pallet.



Tom wrapping pallet. Note wrapping tool and flipping of wrap on each side to promote strength.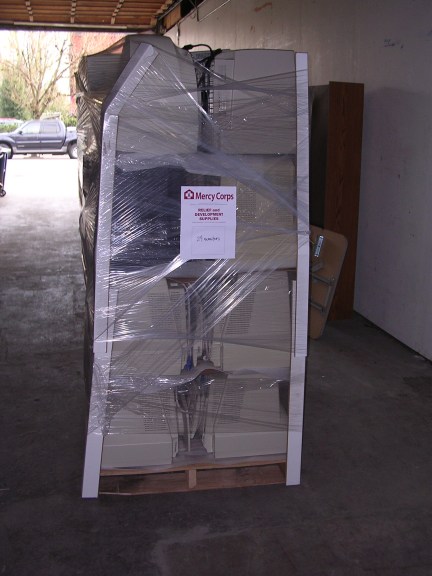 A finished monitor pallet. Each pallet is four items (CPUs or monitors) high.
Note cardboard corners coming down around pallet.



Brad wrapping a pallet. Note that pallet is support on another slightly smaller pallet so we
can wrap around base of pallet. Forklift tines off to right.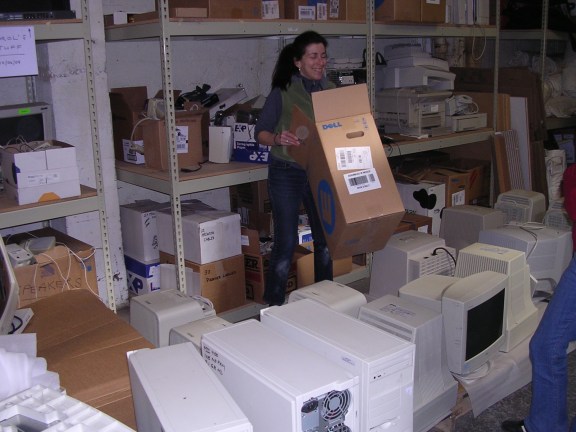 Roni packing keyboards in extra boxes to place between monitors on upper layers of monitor pallets.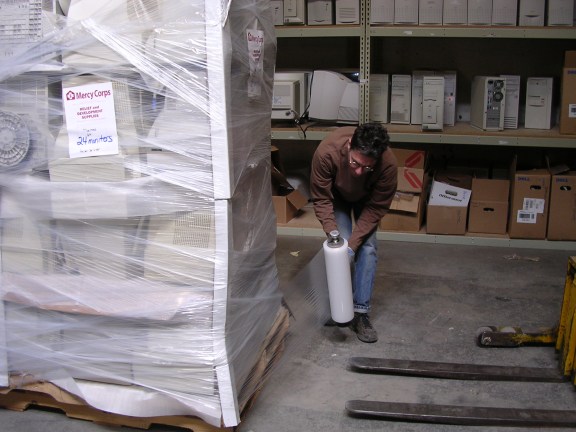 Matthew wrapping a pallet. Again, we used the forklift to put the main pallet on top of a
smaller pallet to wrap around the base.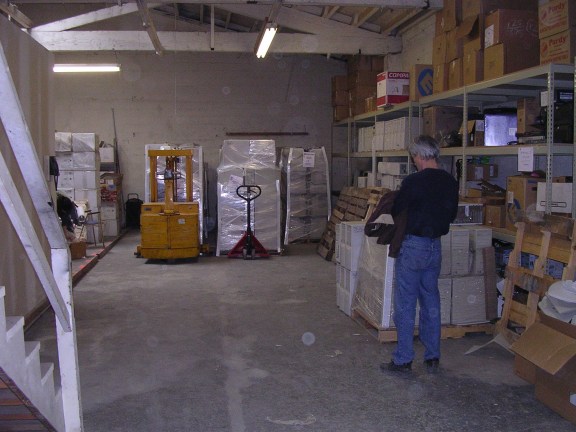 Tom assesses the finished pallets in the warehouse. Both the pallet jack and electric mini-forklift
were extremely useful. Pallets are four items high and ready to be loaded into container.



Tim, happy that the palletizing is over for the day.



What worked well:



The small, stiff cardboard corners held pallets together well
We used 90 pound shrink wrap which also worked very well with the dispenser
We used the electric forklift to raise a pallet on top of another (slightly smaller) pallet
to make sure the shrink wrap reached down to and under the bottom edge
Putting a layer of no-slip thin foam between computer layers was great
Putting a layer of cardboard and a layer of no-slip thin foam between layers of
monitors worked well
Palletizing monitors:

Stack identical model monitors on each layer, if possible

Use a tape measure to make sure the height of all monitors are the same
before creating a layer
Stack two layers, then wrap to make stable. Add a third layer; wrap and
then do a final wrap after adding the last layer
17" monitors stacked well in a 2x3 array with the two "middle" monitors
being stacked with the screen up instead of down. Monitors who had
their screen up needed narrow back ends to fit between the others.

When doing a final pallet wrap, twist the wrap 180 degrees when wrapping each
side, this pulls in the edges to add more strength.
Having the small electric forklift and the hand pallet jack were extremely helpful
Bring cookies again and bring a bigger CD player/radio next time
Don't forget to pack keyboards, mice and power cords (maybe a few printers)

Extras


We didn't palletize any 14"/15" monitors, but I suspect that using similar techniques would
work well. One method that was successful in other situations (but expensive) was to get
gaylords with square corners (no rounded off edges) and stack the 14/15" monitors face
down in a 3x3 array with cardboard between them. The gaylord held everything together
despite most of the monitors having different models and irregular shapes.